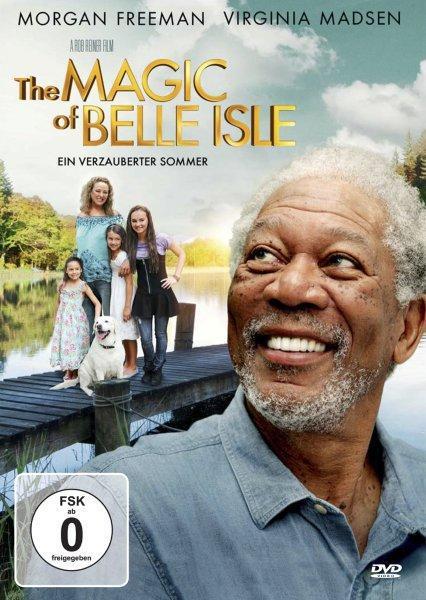 The magic of Belle Isle - Ein verzauberter Sommer
Regie: Rob Reiner. Drehb.: Guy Thomas. Kamera: Reed Morano. Musik: Marc Shaiman. Darst.: Morgan Freeman ; Virginia Madsen [; Madeline Carroll] ...
Material type:
 Visual material,

1 DVD (105 Min.) farb

.
Publisher:

[Nortorf]

Lighthouse Home Entertainment

2012

,

EAN:

4250128409735
Original titles:
The magic of Belle Isle dt.
Theme:

DRAMA/SCHICKSAL | Drama
Subject(s):

Schriftsteller | Selbstmitleid | Alkoholismus | Lebensmut | Freundschaft | New York (Staat)
Classification:
DVDL
Review:

"Monte Wildhorn (Morgan Freeman) hat außer dem Alkohol nicht mehr viel in seinem Leben, aber eigentlich ist er ein erfolgreicher und bekannter Autor. In Belle Island mietet er sich über den Sommer eine niedliche Hütte am See, um sein verloren geglaubtes Talent wiederzufinden. Dort freundet er sich mit der alleinerziehenden Mutter Mrs. O'Neil (Virginia Madsen) und ihren 3 Töchtern an, die ihm helfen, seine Inspiration wiederzufinden ... Hollywood-Wohlfühlkino mit kleinen Ecken und Kanten, eine unterhaltsame Ensemble-Dramödie mit namhaften Charakterdarstellern ... Rob Reiner ('Harry und Sally') inszenierte kompetent das runde Vergnügen für die anvisierte Zielgruppe" (www.mediabiz.de). (Sprachen: D, GB; Hintergrundinformationen) HeRead more »
Supersedes:
Orig.: USA, 2012
Item type
Home library
Call number
Status
Date due
Barcode
Item holds
DVD
Stadtbücherei Wyk auf Föhr

Frühjahr / Sommer / Herbst:

1. März - 31. Oktober

Mo, Di, Do, Fr 10.00 - 12.30 und 14.30 - 18.00 Uhr

Mi, So geschlossen

Sa 10.00 - 12.30 Uhr

Winter:

1. November - 28. Februar

Mo, Di, Do, Fr 10.00 - 12.30 und 14.30 - 17.00 Uhr

Mi, So geschlossen

Sa 10.00 - 12.30 Uhr

DVDL / MAGI / D2448 (Browse shelf)

Checked out

24.06.2019

32718024102
Total holds: 0

//]]>