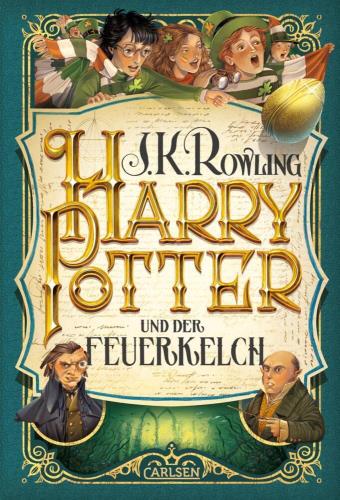 Harry Potter und der Feuerkelch
J.K. Rowling ; aus dem Englischen von Klaus Fritz
Material type:
 Book,

702 Seiten 22 cm

.
Publisher:

Hamburg

Carlsen

2018

,

ISBN:

9783551557445.
Series:

Wizarding world; Harry Potter [4].
Original titles:
Harry Potter and the goblet of fire dt.
Theme:
GRUSELN
Genre/Form:
Kinderbuch
Subject(s):

Magie | Internat
Classification:
SLK3
Summary:

Band 4 der Jubiläumsausgabe der Erfolgsserie.Read more »
Review:

Auch das 4. Schuljahr an der Hogwarts-Schule für Zauberei hat für Harry Potter wieder einige Aufregungen parat. Besonders das Trimagische Turnier, in dem Harry eine ungewöhnliche Rolle übernimmt, hält die Schüler in Atem.Read more »
Supersedes:
Deutschsprachige Ausgabe erschien erstmals 2000.
Item type
Home library
Call number
Status
Date due
Barcode
Item holds
Kinder-SL
Stadtbücherei Wyk auf Föhr

Frühjahr / Sommer / Herbst:

1. März - 31. Oktober

Mo, Di, Do, Fr 10.00 - 12.30 und 14.30 - 18.00 Uhr

Mi, So geschlossen

Sa 10.00 - 12.30 Uhr

Winter:

1. November - 28. Februar

Mo, Di, Do, Fr 10.00 - 12.30 und 14.30 - 17.00 Uhr

Mi, So geschlossen

Sa 10.00 - 12.30 Uhr

SLK3 / ROW (Browse shelf)

Checked out

31.08.2019

32719008404
Total holds: 0

//]]>