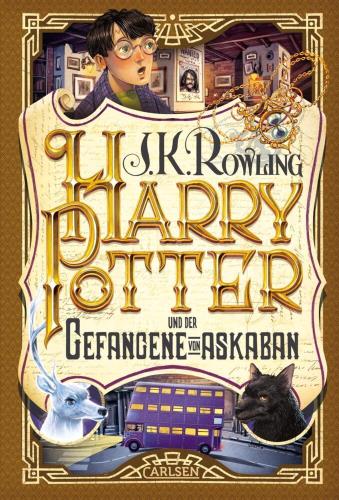 Harry Potter und der Gefangene von Askaban
J.K. Rowling ; aus dem Englischen von Klaus Fritz
Material type:
 Book,

445 Seiten 22 cm

.
Publisher:

Hamburg

Carlsen

2018

,

ISBN:

9783551557438.
Series:

Wizarding world; Harry Potter [3].
Original titles:
Harry Potter and the prisoner of Azkaban dt.
Theme:
GRUSELN
Genre/Form:
Kinderbuch
Subject(s):

Magie | Internat
Classification:
SLK3
Summary:

Band 3 der Jubiläumsausgabe der Erfolgsserie.Read more »
Review:

3. Band: Der Welterfolg geht weiter! Diesmal läuft in den Ferien schon alles so schief, dass Harry befürchten muss, aus Hogwarts rauszufliegen. Gemeinsam mit seinen Freunden Ron und Hermine versucht er, ein Geflecht aus Verrat, Rache, Verleumdung und Feigheit aufzudröseln, und stößt dabei auf schier unglaubliche Dinge, die ihn fast an seinem Verstand zweifeln lassen.Read more »
Supersedes:
Deutschsprachige Ausgabe erschien erstmals 1999.
Item type
Home library
Call number
Status
Date due
Barcode
Item holds
Kinder-SL
Stadtbücherei Wyk auf Föhr

Frühjahr / Sommer / Herbst:

1. März - 31. Oktober

Mo, Di, Do, Fr 10.00 - 12.30 und 14.30 - 18.00 Uhr

Mi, So geschlossen

Sa 10.00 - 12.30 Uhr

Winter:

1. November - 28. Februar

Mo, Di, Do, Fr 10.00 - 12.30 und 14.30 - 17.00 Uhr

Mi, So geschlossen

Sa 10.00 - 12.30 Uhr

SLK3 / ROW (Browse shelf)

Available

32719008420
Total holds: 0

//]]>