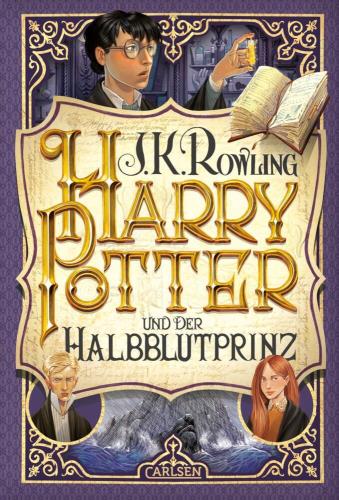 Harry Potter und der Halbblutprinz
J.K. Rowling ; aus dem Englischen von Klaus Fritz
Material type:
 Book,

638 Seiten 22 cm

.
Publisher:

Hamburg

Carlsen

2018

,

ISBN:

9783551557469.
Series:

Wizarding world; Harry Potter [6].
Original titles:
Harry Potter and the half-blood prince dt.
Theme:
GRUSELN
Genre/Form:
Kinderbuch
Subject(s):

Internat | Magie
Classification:
SLK3
Summary:

Band 6 der Jubiläumsausgabe der Erfolgsserie.Read more »
Review:

Auch Harry Potters 6. Schuljahr auf Hogwarts hält genau wie die anderen jede Menge gefährliche, magische Abenteuer bereit. Bereits in den Ferien, die Harry wie immer bei den Dursleys verbringt, bekommt er Besuch von Prof. Dumbledore, der nun auch Onkel Vernon und Tante Petunia kennen lernt.Read more »
Supersedes:
Deutschsprachige Ausgabe erschien erstmals 2005.
Item type
Home library
Call number
Status
Date due
Barcode
Item holds
Kinder-SL
Stadtbücherei Wyk auf Föhr

Frühjahr / Sommer / Herbst:

1. März - 31. Oktober

Mo, Di, Do, Fr 10.00 - 12.30 und 14.30 - 18.00 Uhr

Mi, So geschlossen

Sa 10.00 - 12.30 Uhr

Winter:

1. November - 28. Februar

Mo, Di, Do, Fr 10.00 - 12.30 und 14.30 - 17.00 Uhr

Mi, So geschlossen

Sa 10.00 - 12.30 Uhr

SLK3 / ROW (Browse shelf)

Available

32719008471
Total holds: 0

//]]>