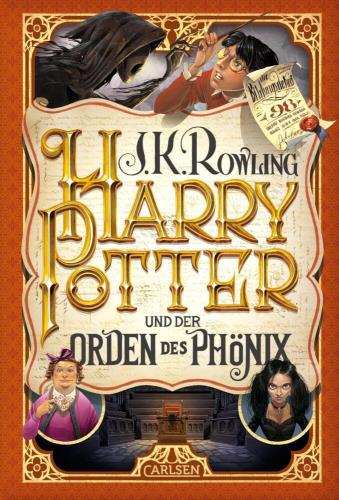 Harry Potter und der Orden des Phönix
J.K. Rowling ; aus dem Englischen von Klaus Fritz
Material type:
 Book,

956 Seiten 22 cm

.
Publisher:

Hamburg

Carlsen

2018

,

ISBN:

9783551557452.
Series:

Wizarding world; Harry Potter [5].
Original titles:
Harry Potter and the order of the phoenix dt.
Theme:
GRUSELN
Genre/Form:
Kinderbuch
Subject(s):

Magie | Internat
Classification:
SLK3
Summary:

Band 5 der Jubiläumsausgabe der ErfolgsserieRead more »
Review:

Harry Potter ist überzeugt davon, dass Lord Voldemort zurückgekehrt ist. Doch im Zaubereiministerium scheint niemand dem 15-jährigen Teenager Glauben schenken zu wollen. Zum Glück ist da auch noch der Orden des Phönix, eine Gemeinschaft von aufrechten Zauberern, die unter der Führung von Professor Dumbledore im Geheimen für das Gute kämpft.Read more »
Supersedes:
Deutschsprachige Ausgabe erschien erstmals 2003.
Item type
Home library
Call number
Status
Date due
Barcode
Item holds
Kinder-SL
Stadtbücherei Wyk auf Föhr

Frühjahr / Sommer / Herbst:

1. März - 31. Oktober

Mo, Di, Do, Fr 10.00 - 12.30 und 14.30 - 18.00 Uhr

Mi, So geschlossen

Sa 10.00 - 12.30 Uhr

Winter:

1. November - 28. Februar

Mo, Di, Do, Fr 10.00 - 12.30 und 14.30 - 17.00 Uhr

Mi, So geschlossen

Sa 10.00 - 12.30 Uhr

SLK3 / ROW (Browse shelf)

Checked out

08.08.2019

32719008480
Total holds: 0

//]]>